… And So Can You
This is a 6-minute read.
When we were in California, we had the pleasure of spending some time with the folks at The Wine Foundry. Like every other visit during this trip, we assumed we were there to taste their wine.  We were. And we did.  But truth be told, The Wine Foundry is more than a winery, and we were quickly enthralled at their business model. While they make wine to sell under two different labels, their primary mission is to help people make their own wine.
The Wine Foundry Concept:
The concept is simple, but the mechanics are plentiful.
Create relationships and purchase contracts to buy fruit from several of the most exclusive vineyards in Napa, Sonoma, and Santa Barbara AVAs.

From whom and what is where and when it's ready.

Build out a winery that can handle the volume of customized winemaking.

Touring the barrel room

Stuart leading the charge through the winery.

Make extraordinary, classic single-vineyard wines and unusual wine blends as proof of winemaking skill.
Market and sell these wines as proof of winemaking and wine business acumen.
Make wine for emerging commercial brands as well as private brands for well-known wineries.
Make wine for anyone that wants to make at least one barrel of world-class wine.
Create a complete business system to allow anyone wanting to make as little as one barrel of wine drink or more to sell.
Wash, rinse, repeat.
The Wine Foundry: Who thought of this?
Phillip and Valerie Von Burg are the owners of The Wine Foundry.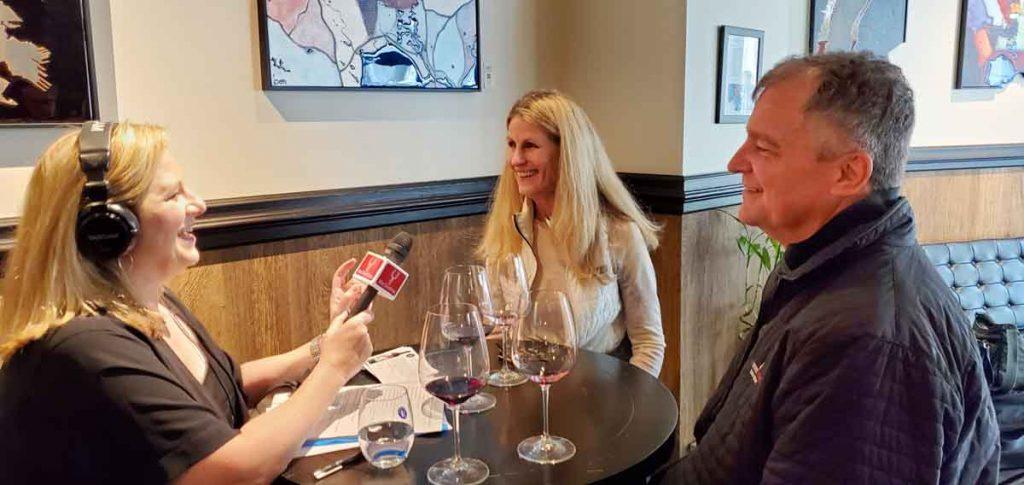 Phillip is CEO of the Wine Foundry, while he also maintains his position as Principal at CastleGate Capital Advisors, an investment firm specializing in turning around distressed businesses. Valerie, as a lawyer, takes care of all things legal. As passionate oenophiles, the Von Burgs are the perfect owners of The Wine Foundry. Which, in the simplest of terms, looks like a Custom Crush* facility, but it is actually so much more.
Side Note: *What Is Custom Crush?  Custom Crush within the wine industry implies that you are a professional winemaker. You bring the grapes you grow or source to a winery that executes all of your winemaking decisions. You call all the shots – all of them. They are the worker bees that follow your orders. This is not the way The Wine Foundry operates.
_______________________________________________
So how do you go from being a wine drinker to a winemaker?
Making wine is easy.
But making wine you want to drink is hard and requires resources, skill, and money.

 
But all that has changed with The Wine Foundry.
Well, you still need money but not as much as you think.
_______________________________________________
The Wine Foundry: One Barrel or Ten?
When working with The Wine Foundry, you may be an individual or small group with the intent to make your "perfect" wine and then drink it and share it as you see fit. Or as a commercial enterprise with the intent to sell the wine you make. It can be one barrel of wine or several barrels. It can be one variety, say Cabernet Sauvignon, or several. At The Wine Foundry, you can do any of the above without knowing the intricacies of winemaking, and with their expertise, make world-class wine. You just need to know what you like and want. The winemaking team does the heavy lifting, brings you into the process when needed to stay focused on your end product, and the account management team takes care of the rest.
Currently, they have about 100 non-commercial clients worldwide that make a barrel or two with friends or family for private consumption. The number of commercial brands, both emerging and established, is not released, but it is a significant number based on the number of barrels and tanks you will find in the facility.
The Wine Foundry Brands: Proof of Concept
Foundry Wines…
…are classic single-variety wines from some of the top vineyards in Napa, Sonoma, and Santa Barbara AVAs. These wines are ultra-premium, small-lot wines. This is the original brand created to offer proof of concept to potential winemaking clients. They are beautifully made and have now bloomed into an entire brand sold online and in their tasting room.
In every instance, these wines are extraordinary.
Under the Foundry Wines label, they make a single-vineyard Sauvignon Blanc, Sparkling Blanc de Blancs, and Blanc de Noirs, a single-vineyard Pinot Blanc, a single-vineyard Chardonnay, a single-vineyard Pinot Noir, a single-vineyard Cabernet Franc, and two single-vineyard Cabernet Sauvignon. Additionally, they also make Napa Valley Cabernet Sauvignon and two Napa Valley Red Blends.
We had the thrill of tasting the 2015 Blanc de Noirs Sonoma Coast ($58) upon our arrival at the winery. What a glorious and elegant sip it is. Sadly this wine has sold out. Happily, I snagged some of the last available bottles. It is 100% Pinot Noir with the second fermentation méthode champenoise. The color is pale coral. The bubbles are tiny yet firm and tickle your tongue. Look for melon aromas on the nose and fresh-baked brioche and tropical fruit flavors on the palate. Pleasing soft, lingering acidity finishes the sip.
We also tasted The 2017 Rodgers Creek Vineyard Pinot Noir ($62), 2015 Napa Valley Cabernet Sauvignon ($78), and the 2016 Stagecoach Vineyard Cabernet Franc ($110).  They are all exceptional. They are world-class.
Side Note: As usual detailed tasting notes are few and far between when I write a post about a wine tasting experience at a winery. There is so much going on and pulling focus that it is hard to concentrate.  Your takeaway should be, if I mention it, I love it.   Detailed tasting notes come from a tasting when it's quiet and I can focus and spend time, sipping and swishing and swirling, and smelling and writing and thinking. Over and over again.
Anarchist Wine Co. started as an exploratory project.
The winemaking team began experimenting with co-fermentation and unusual blends that created sensational results. This experimentation and exploration resulted in a brand with a mission to push the limits of conventional winemaking. And given where these grapes are grown, at affordable prices. Wow, have they created some winners.
They have this on their website that I think explains it all so well. So rather than try to explain in my own words, I shall borrow theirs.
"Here's to the crazy ones — the misfits, the rebels, the troublemakers, the round pegs in the square holes. The ones who see things differently — they're not fond of rules. You can quote them, disagree with them, glorify or vilify them, but the only thing you can't do is ignore them because they change things. They push the human race forward, and while some may see them as the crazy ones, we see genius because the ones who are crazy enough to think that they can change the world are the ones who do." 
Anarchist Wine Co. is a nod to those with the foresight to observe the situation, the mindfulness to ask the question, the courage to take action and forge the outcome.
These Wines  – Anarchy, I say! Anarchy!
The Anarchist ($24) is the first wine made under this brand. It is a white blend made with a crazy contrast of grapes. The 2019 vintage is 55% Gewürztraminer, 18% Pinot Gris, 11% Viognier, 10% Sauvignon Blanc and 6% Chardonnay.
Rage Against The Machine 2018 ($42) was our crowd favorite. The 2018 vintage is 38% Syrah, 38% Sangiovese, 10% Cabernet Sauvignon, 4% Petit Verdot, 3% Gewürztraminer, 3% Petite Syrah, 2% Viognier, 2% Zinfandel. The notes on my tasting card said just O.M.G. A-mazing!
We also tasted Rosé Against The Machine 2020 ($24), a still Tempranillo based rosé; 15 Minutes of Fame 2020 ($32), a Mourvedre based frizzante (lightly sparkling) rosé; Conspiracy Theory 2016 ($38), a red blend of Petite Syrah, Syrah, Malbec, Sangiovese, and Zinfandel;  and Ad Infinitum 2018, a port-style Syrah.
Tasting these wines was so much fun. They are delicious and mind-boggling all at the same time.
So You Want To Make Your Perfect Wine
The minimum amount one makes at The Wine Foundry is one barrel. A barrel makes three hundred (750ml) bottles of wine. That is a lot of wine, which is why non-commercial clients are usually a small group, including family and friends. In a group of five, each of you gets sixty bottles of this custom-made wine.
To make a white wine or a rosé, the cost is $5,500 a barrel, which breaks down to $18.00 a bottle.  To make a Napa Cabernet Sauvignon from world-renown vineyards like Stagecoach Vineyard or Beckstoffer's George the Third vineyard is $14,000.00 a barrel or about $47.00 a bottle. Wines from these vineyards sell for hundreds of dollars on the retail market. So this is a real value for those who are willing.
The difference here is… This wine is yours. It is made to your specifications. That is something special.
In Conclusion
I have to give a shout-out to Stuart Ake, the customer interface specialist and resident comedian. He led the tour, the tasting and made this such a great experience. Should you choose to make a barrel of wine, this is the guy who will take you by the hand and make this dream come true.
I have already received my first case of wine from these folks and I look forward to sharing their wines with my tasting group. To join the tasting group, sign up here.
If you want to make wine, call Stuart at 707-637-8821.
If you want to buy any of the Foundry Wines or the Anarchist Wine Co. wines, head to the e-commerce store online here.
And if you are heading to Napa or Sonoma, head to The Village at Collina Resort and go to their tasting room which serves both Anarchist and Foundry Wines.
Cheers,
Rick & Gary