I grew up in a time when the casserole was king. Lately, I have been nostalgic for my mom's Tuna Noodle Casserole. This meal was always one she could put all together in the morning and bake it off later after volunteering at the community center with her friend Phyllis, selling pool memberships. We all loved this dish so much. It is so simple and filling; just what she needed when raising four kids.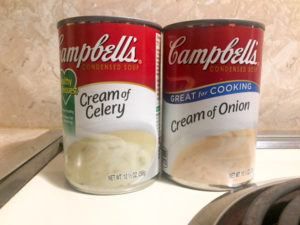 Gary was also craving it which meant I had to swap out the mushroom soup with other complementary flavors. I used Cream of Onion and Cream of Celery, and it worked great.
Tuna Noodle Casserole
This recipe is a modified version of my mom's casserole. While I usually make this recipe with egg noodles, I had an open box (full) of leftover lasagna noodles that I wanted to use. So I cooked them off, then sliced them into long noodle-like strips. I liked this more than with egg noodles. It has a toothier bite to it and seems more substantial. Use egg noodles if you want to save the step of slicing the lasagna noodle, but this was really good. There is more than double the tuna in this recipe than my mom used. She was stretching her dollar. Lastly, my mom would have never topped with panko bread crumbs (too expensive) and crispy onions (too much onion). So consider this "nostalgic with a twist."
Ingredients
1 1 lb. Lasagna Noodles, cooked and sliced into ribbons or 1 lb. Egg Noodles, cooked
Can Cream of Celery Soup (10.5 ounces)*
Can of Cream of Onion Soup (10.5 ounces)*
1 cup milk
8 ounces Parmesan Cheese, divided – (I use fresh grated 4 oz. tubs from the deli section in the store)
1/4 cup dried minced onion
2 12 ounce Cans Wild Caught Tuna in Water (I like White Albacore), drained
10-12 oz box or bag of frozen peas, rinsed under warm water to remove ice crystals
Panko Bread Crumbs
Crispy Fried Onions
Preparation
Preheat oven to 375 degrees. Spray a 13 x 9-inch pan with an oil spray.
Cook and prep noodles. If using lasagna noodles and you did not cook ahead of time, put in an ice bath to quickly cool so you can hold to slice. I roll the noodle to cut into long ribbons. Set aside.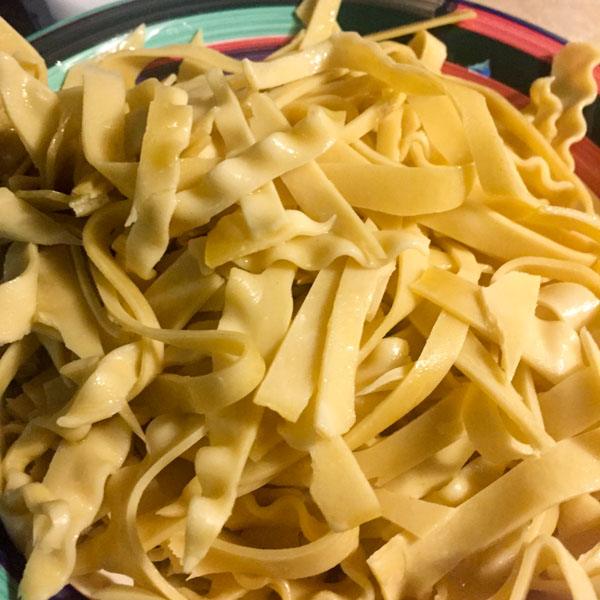 In a large bowl, mix the soups, milk, onion and 4 ounces of the parmesan cheese. Once well-blended add in the drained tuna and the peas. Stir to coat evenly.
Place the mixture into the 13 x 9 pan.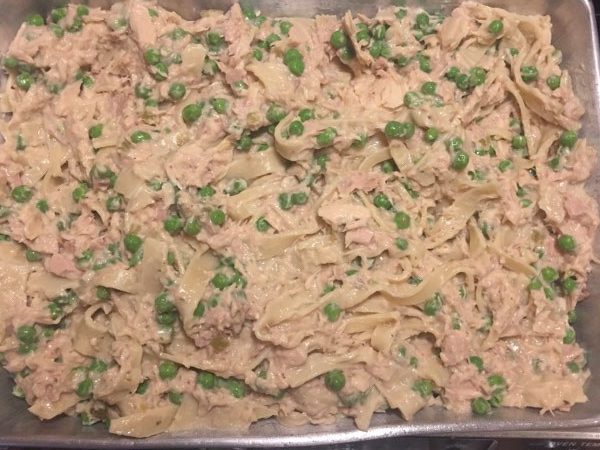 Top with a couple of handfuls of Panko breadcrumbs, and then the remaining 4 ounces of Parmesan cheese. Finally, top with a handful of the crispy fried onions.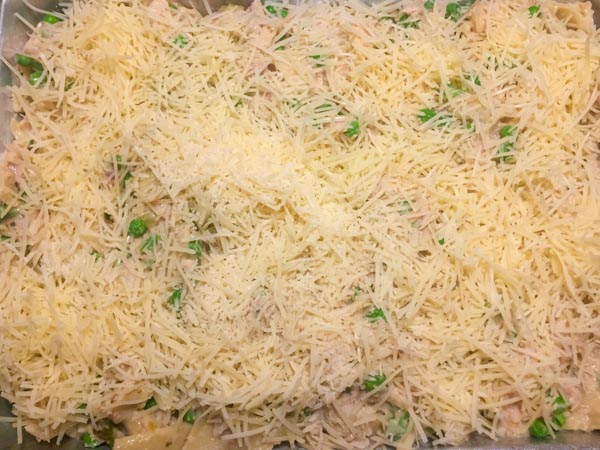 Cover with a foil tent (inside sprayed with oil) and bake for 30 minutes or until heated through at the center. Remove foil and allow toppings to brown; about 15-20 minutes. Casserole should be bubbling around the edges and cheese, melted and golden brown.
Allow to rest for about 10-15 minutes, cut and serve immediately.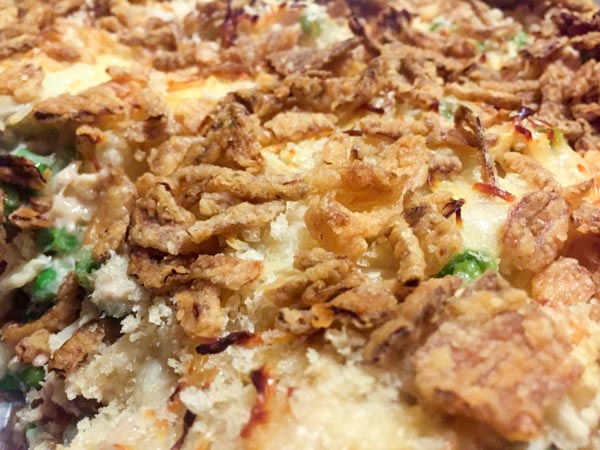 Download Recipe Here: Tuna Noodle Casserole
My mom used Cream of Mushroom Soup, and I love that. It makes for a hearty casserole. I did this for Gary.
This dish would go so well with Monday's wine post about the Smith-Madrone 2015 Chardonnay.
---
Side Note:
I found a few articles that I think you might find interesting.  Here are the links:
Wine production falls to a 60-year low; cheap wine prices could go up.
What's wrong with rosé wines, and why you should never pay more than $25 for a bottle.
(I want to object to the price qualifier and say "rarely" versus "never…")
##
And in case you missed the meme I created after five straight days of wine events…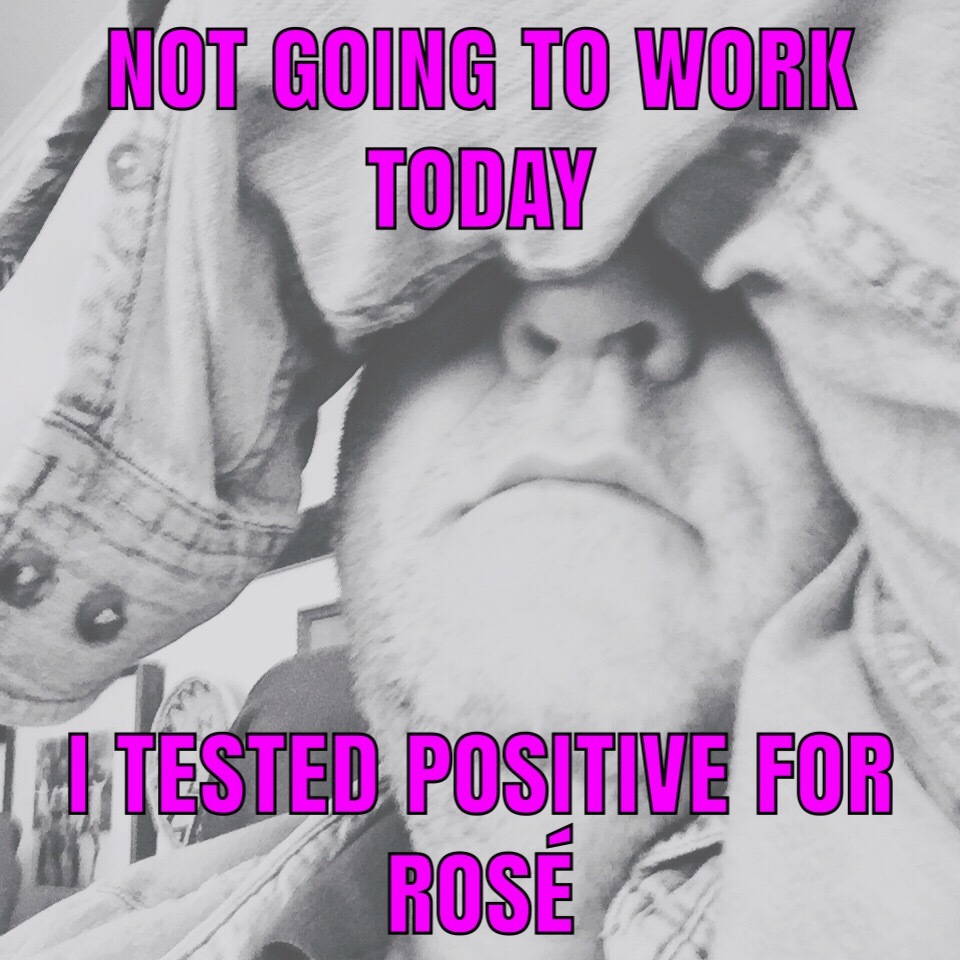 ---
PLEASE, PLEASE, PLEASE complete the Reader's survey. It only takes a few minutes and the information will help me out. It is in the sidebar now!!
That is all for now.
Cheers,
rick
---