Two Lesser Known Wine Regions in France
One of the things that I love about wine blogging is that it forces me outside of my familiar. Before writing Strong Coffee, I drank pretty much just one varietal. I would drink that varietal from different countries and different regions, but it was always the same grape. In the last two years, I have opened my eyes to wines of every color (I tried a blue wine once. Yes, blue, real blue; it did not go well.), and style. From countries that I had no idea made such great wines. And the places I was already familiar, I found new obscure regions that I also did not know existed. And that brings me to Roussillon and Jura.
So sit back, grab a sip and check out these wines.
---
Background: Roussillon and Maury AOP
Anyone familiar with wine from southern France has heard of Provence and more than likely
Languedoc. However, Languedoc is usually attached to Roussillon, the smaller region to the south and west that extends to the Spanish border. Combined this area is called Languedoc-Roussillon and is one of Frances 11 major wine regions. But Roussillon is its own region with characteristics that set it apart. Within Roussillon is 13 differ appellations, and Maury is the AOP (Appellation d'Origine Protégée) of this first wine in this post.
Maury is a small village and AOP within Roussillon in southern France. The village/AOP has long been known for its sweet Bandylus wines. In 2011, producers were granted the opportunity also to make dry red wine as well. However, to differentiate from the sweet wines the dry wines must include the word Sec (meaning "dry" in French) after Maury on the label; thus Maury Sec.
Castell d'Agly 2015, Maury Sec AOP, Roussillon, France
I first tasted this wine at Monarch Wine Merchants at a tasting with the winemaker, Lionel Lavail. It was a real treat to meet him and to sample through several of the wines Maison Cazes produces. As a result of the tasting we bought and brought several bottles home. Castell d'Agly was my favorite of all of the dry wines we tried.
Last week when sharing wine with our friends Bryan and Craig they opened a bottle. I was immediately reminded of why I love this wine. I decided right then that I was opening the bottle that I had in the cooler very soon.
The Look, Aroma, and Taste
The color of this wine is dark purple from edge to edge. The aromas are intense and rich. I got stewed black fruits like black cherry, currant, and plum. By adjusting my nose to the upper edge of the bowl, I also found aromas of dark chocolate covered cherries. For me, this is what I love about wine. It is an all sensory experience.
While the aromas were present from the moment the wine ht the glass, the flavors on the palate needed some time to come through. After about thirty minutes some dark chocolate, stewed plums, and smoke hit your tongue. The tannins are silky and smooth and predominate over the fruit, but I really like the feel. The finish is long and lingering. I want food with this wine; some grilled meat perhaps and some hearty cheeses. At 15%, this wine has high ABV (alcohol by volume) and is always present.
What stands out to me with this wine is the feel. If you are looking for a fruit forward wine, this is not it. But if you like silky tannins with the fruit taking a back seat? This is it, baby.
The Details
Grapes: 80% Grenache, 20% Carignan * Vine age: 50-80 years (The Cazes family has some of the oldest Carignan vines in the Roussillon.) * Soil: Black schist (nutritionally poor and hard to work) * Farming: Certified Organic and Biodynamic * Fermentation: Bunches are 100% destemmed. Fermentation is in stainless steel at 25C with gentle extraction by traditional pumpovers. * Aging: Aging in stainless steel and bottled in 2016 just prior to harvest.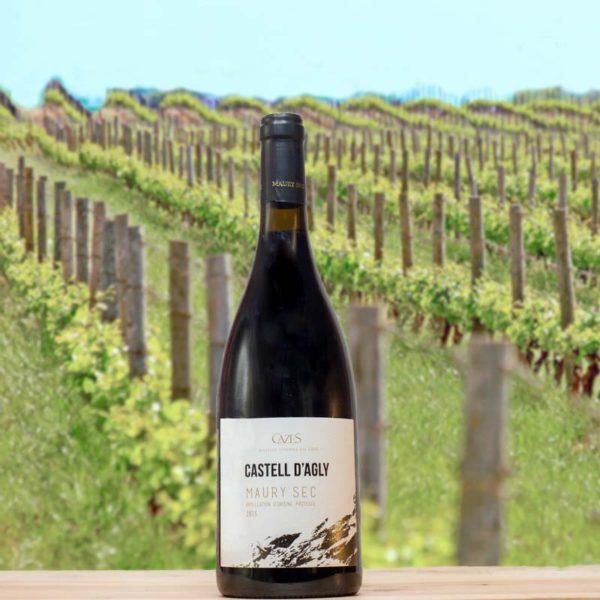 ---
Background – Jura One of France's Smallest Regions
The Jura is a region in eastern France, between Burgundy and Switzerland. Most of the vines are planted between 800 and 1300 feet above sea level and above. The climate is continental with similarities to Burgundy but can be much colder, especially in the winter. The vines typically have a shorter growing season. Thus the fruit may not fully ripen in time. Jura is well known for a sherry-like wine called vin jaune. There are only six appellations in Jura. This wine is from Côtes du Jura.
The wines from this region come in an unusually shaped bottle. The bottle is more squared off at the shoulder and the word Jura in manufactured into the bottle.
Pinot Noir 2015 Les Trouillots, Les Pieds Sur Terre, Côtes du Jura, France
I was first introduced to Jura wines through my membership in the wine club through the Paris Wine Co. It was through this club that I received a bottle of Côtes du Jura Poulsard and Trousseau also from Domaine Morel. I loved the Trousseau and blogged about it before. Unfortunately, the Poulsard was corked (went bad) and I was not able to drink. Sadly, this club no longer exists.
But because of my experience when I saw that goat.sheep.cow.north sold the Pinot Noir from Domaine Morel; I quickly picked one up. (I am not sure this wine or its new vintage is still sold at goat.sheep.cow. Please call ahead as not to waste a trip.)
The Look, Aroma, and Taste
The color of this wine is pale garnet bordering on cherry red. It is somewhat cloudy from not being filtered. This is outside of the box style of wine. It has a funk of barnyard and earth. It is light bodied with a zest that hits the tip of your tongue and lingers. Gary liked this zest. He said it brings life to the wine. I thought it was far too present.  This wine has a wild yeasty element. The tannins are low, and the acidity is front and center.  This is not a classic Pinot Noir, but it is definitely interesting. As we came to the last glass from the bottle Gary's hand went up, saying "Yes, please." I was happy to oblige.
The Details
This Pinot Noir comes from 35-year-old vines, planted on Trouillot Marl terroir.  The grapes are hand-harvested and destemmed and put into steel tank for a 12-day maceration.  Alcoholic and malolactic fermentations are in steel tanks.  Bottled unfiltered and 1g/hl of sulfur added at bottling.
---
That is all for now.
Cheers,
rick
---