We have been home from our wine trip to Sicily for two weeks. Jetlag was a real ogre. I was almost non-functional for days. But now there is excellent clarity.
We were on the island for a two-week trip using my self-guided itinerary. We accomplished a lot and covered a lot of territory, probably too much. But when I am in a new foreign location, FOMO takes over. I fear I may not return, so I cram the schedule full. Even though I left several days for sightseeing, it sometimes felt rushed, and I did not like that. But such is vacation life with me, and Gary puts up with it.
This post is the first of many posts we will write about this experience because Sicily (seh-SHEEL-lay) has so much to offer. Of course, we went for the wine. Still, there is also the food, the people, the affordability, the ancient history, the architecture, the natural landscape, and so much more that make this a place you need to visit at least once or more likely twice, especially if you are a wine explorer like us. We are already talking about going back.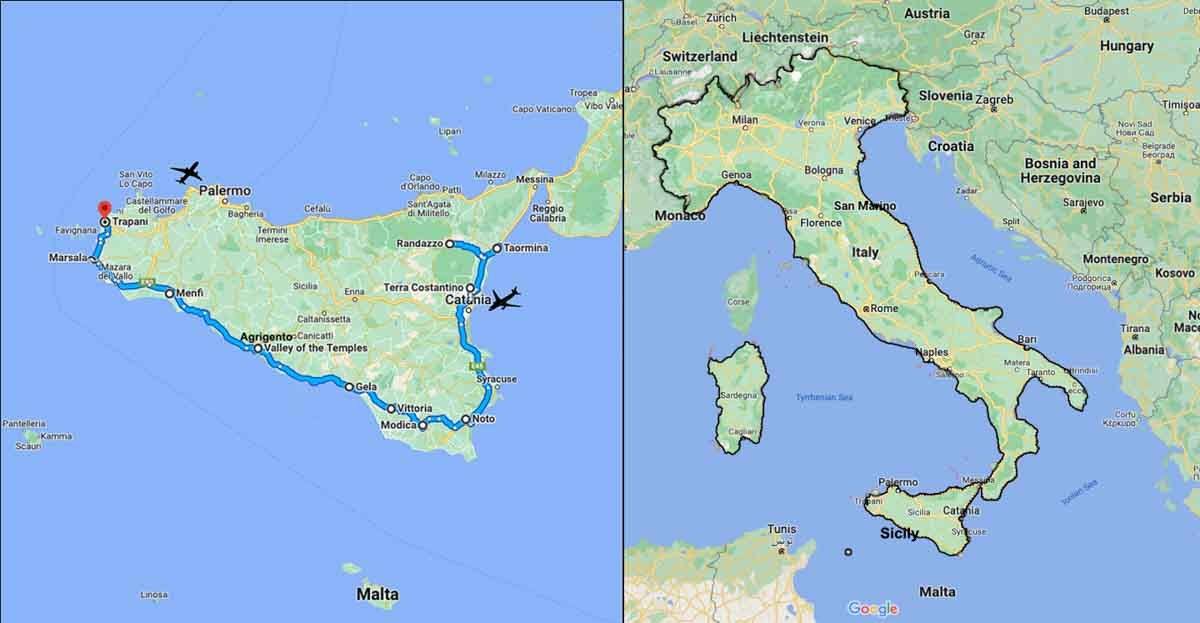 As you can see from this map, we started on the island's eastern and worked our way south, west, and north. We did not visit either of the two largest cities on the island, Catania or Palermo. City experiences were not important to us. Also, we had to skip the north coast. That will be covered on our next trip.
We Came for the Etna Bianco
In 2019, I tasted my first Sicilian wine. It was the Archineri Etna Bianco 2015 from Pietradolce. It was crisp and lightly fruited with pronounced mineral notes on the palate. I was so intrigued that I started a quest to sample as many Etna Bianco wines as possible. From this and the travels of dear friends here in Charleston and Ohio, We ultimately put Sicily on our bucket list.
The above wines are five different Etna Bianco wines. The three on the left are from some of the wineries we visited that do not import into South Carolina. The wine on the far right is from a winery I wanted to visit but ran out of time. We planned to drink it while we were traveling. (oh well!) Fortunately, it is available in SC, so assuming we love it, I can get more. The second from the right was a purchase at "the best Enoteca (aka wine shop) on Etna," Il Buongustaio dell' Etna. I asked the proprietor to select his best under $50.00 Etna Bianco with racy acidity. He chose the Generazione Alessandro, Trainara, Etna Bianco DOC 2019.
But Etna Bianco is only the beginning. So before I get too far ahead of myself, let me offer this trip overview so you can see why Sicily is so unique and why you will want to read each and every post.
On Sicily – Indigenous Grape Varieties Rule
The most amazing thing about Sicilian wine is that it is made from indigenous grape varieties farmed only in Sicily. Yes, you may find an occasional international variety like Syrah, Merlot, or Chardonnay, but those are the exception. Just stick with the varieties you've never heard of, and you will drink fantastic wine.
Look for these red varieties: Nero d'Avola, Frappato, Nerello Mascalese, Nerello Cappuccio, and Perricone.
And these white varieties: Catarratto, Carricante, Grillo, Inzolia, and Grecanico.
Yes, It was harvest on Mount Etna, so we had the good fortune to see fully ripe grapes waiting to be picked and some of the early winemaking processes. (More on that in another post)
Mangia! Mangia!
(Eat! Eat!)
While writing this, I am salivating, thinking about all the great food we ate on this trip. I do have to admit we had a hard time eating on the Sicilian dinner schedule. Restaurants opened for dinner at 8:00 pm. And most restaurants that served lunch closed at 2:30 pm or 3:00 pm. Having an "early" dinner means eating at 8:00 pm; trust me, you will be the only table until at least 9:00 pm. Needless to say, we did not eat dinner very often. Menus in English were always available, so ordering was easy.
Every day started with a Sicilian breakfast at our hotel or B&B. Look for sweet pastry, a sweet breakfast cake, a platter of mortadella, salami, and cheeses. Fresh fruit, including the fruit of the prickly pear cactus and white melon, Occasionally you may find butter for your croissant or hard roll, but in most cases, just a bowl of fresh ricotta (to die for!) And coffee! The best coffee!
Affordability
Once you get to Sicily, it can be a very affordable visit. We used miles to get there, but flights right now start at about $1,200 a person. The rental car was $135.00 a day with full coverage. We hired a car service for the first three days since we were tasting a lot of wine, which cost about $300.00 a day.
The hotels and B&Bs we chose were excellent. We paid as little as $57.00 a night. However, the average was $90.00 a night, and the most expensive was $200.00 a night. Could you pay more? Sure, but why? You just sleep and shower there, and the beds are comfortable, and the showers more than did the job.
Sicilian wine in restaurants we visited ranged in price from $15.00 to $35.00. At dinner, including cocktails and wine, enjoying two or three courses, we never spent over $100.00.
Sicily In Conclusion:
This trip was about Sicilian wine, exploring the sights, and learning about the island's culture and history.
I hope this post tweaked your interest. We have much more to report on, so stay tuned.
Christian is also a cobbler, specializing in Sicilian Jeweled Sandals for women. And he ships to the US. Check them out at https://www.christiangreco.com/en/.