The inhabitants of Sicily have been making wine for millennia. However, the Phoenicians in the 1100 – 1000 BCE brought vines, advanced enology, and viticulture knowledge to the island, which began the quest for quality wine. Sicily's wineries have been raising the bar ever since. Wine grapes are grown all over Sicily, including 23 DOC sub-regions and one DOCG sub-region. The island is most known for wines from Marsala DOC, Vittoria DOC, and Etna DOC. Etna DOC wines drew me to Sicilian wines, so we started our trip there.
Side Note: In preparation for this trip, I read a couple of books about Sicilian wine, including,  Palmetto: A Sicilian Wine Odyssey by Robert Camuto and The New Wines of Mount Etna: An Insider's Guide to the History and Rebirth of a Wine Region by Benjamin North Spencer. I highly recommend both.
Etna DOC Helpful Information
The Etna DOC was established in 1968 and is the oldest in Sicily. There are eleven communes (municipalities) within the DOC, and there are now 142 contrada within those communes. A contrada is a named area of one or more vineyards that share the same topography, soil, weather, climate, altitude, etc. The wines within the contrada produce a signature profile. And therefore, the name of the contrada can be listed on the wine bottle label.
Etna DOC
Why We Chose and Who We Chose
These two days were the start of the wine journey and the pinnacle of why we were in Sicily. I had selected several wineries I hoped to visit but found it challenging to secure. It seemed that we had planned our trip during harvest. And here it is, "all hands on deck," so no appointments from several on my list. Harvest is a popular time to visit wineries here in the US, so this surprised me. Getting frustrated with my inability to confirm appointments, I enlisted the help of the hotel where we planned to stay while in Etna DOC. I gave my contact a list of preferred wineries in ranked order. I also detailed what was important about each experience and the overall experience. Christian Greco, our contact person from Ramo D'Aria Country Hotel, did a fantastic job.
Fans of Sicilian wine know that there are several well-known and popular producers making wine in Sicily. Since 80% of wine from commercial wineries is exported to the USA and around the world, I knew that I could track down and purchase many of the larger producers in Charleston or from online wine shops. Thus we were not inclined to visit too many of them since we had so little time.
Side Note- About Winery Visits:
I am unsure if this happens with everyone or just us since we are "in the wine biz." But be careful not to plan too much into your day. The hospitality at the smaller wineries can turn into an all-day experience, including extensive two or three-hour vineyard tours, a tasting of four wines that can become eight wines, and even invitations to dinner at local establishments with the winery owner/winemaker. Remember, the pace is slower, and the hospitality is genuine. The more interest you show, the more they will share. Unfortunately, our time on Etna was too tightly scheduled, and we could not accommodate all we were invited to experience.

---
Etna DOC North Slope – Day One
Side Note: All of the wineries will be profiled in greater detail in a later post.
Commune: 

Randazzo
I chose this winery because Stef Yim, the owner, grows and sources his fruit from organic vineyards. In winemaking, he is a minimal interventionist. But the most intriguing aspect of his winery is that he bottles three of his five wines based on the altitude at which it grows. So this put them on the top of the list. Organic. Produces 15,000 bottles. Wines are not available in the USA. However, you can purchase at the winery, and some wine shops in Sicily, Italy, and the European Union.
Commune: 

Randazzo
I chose this winery with a single purpose. They are one of only six wineries that produce a single variety wine of Nerello Cappuccio. For most, Nerello Capuccio is a blending grape to be added to Nerello Mascalese for an Etna Rosso. The maximum amount is 20% and is added to deepen the color of the lighter-skinned Nerello Mascalese. But I was curious why this grape has so little significance to the region. And we found a gorgeous example of why more wineries should reconsider. Organic. Produces 5,000 bottles. Wines are available from the winery and ship only within the European Union.
This winery was not on my list, and I knew nothing about them. But Christian could not confirm appointments at the remaining wineries on my list, so he chose them for us.
And I am so glad he did. While this small, family-run winery produces 30,000 bottles a year, it has an intimate vibe of tradition, family, and great wine. Unfortunately, while they distribute in select states in the USA, I could not find an online retailer. So I am sure glad we bought three bottles of Ginestra Etna Bianco 2021, two bottles of Etna Rosso Arcuria 2017, and two bottles of Etna Rosso Feudo di Mezzo 2017 to bring home.
---
This is not a winery but an Enoteca, Italian for a wine shop, wine bar, and Sicilian deli, all in one. So why is it listed here? Because you need to know about this place. This is the best Enoteca on Etna, no matter where to look online or who you ask. Yes, you can buy wines from other European Union countries, but more importantly, it has the most comprehensive selection of wines from the Etna region than anyone, anywhere. So you did not have time to get to Pietradolce, Cottanera, Biondi, or any others? Just come here and ask for a tasting of those wines. They will have a selection and open the bottles for you to taste.
We sat there for about 90 minutes at the end of a long day. We had a charcuterie and cheese platter and tasted eight or nine wines. And yes, you tell them what you want to taste, and they bring over 3-6 bottles at a time. You pour what you want and as much as you want. Other than the watchful eye of the owner, I have no idea how they keep track of each table. Crazy!  Our bill was $35.00. Also Crazy! I want to go there again and again. We also bought two gorgeous Etna Bianco that we planned to drink during the trip but ended up bringing them home. This is a MUST stop whenever you are in Sicily.
---
Etna DOC South and Southeast Slope – Day Two
Day two on Etna was an abbreviated day as we had to pick up our rental car and head to Noto. That said, I wanted more time in this place. There is something about Etna that intrigues me. Visiting five wineries was not enough for me.
Commune: Milo
Barone Villagrande was on the top of my list for the second day of tasting on Etna. They are the oldest winery in the commune of Milo. And the commune of Milo is considered the best area to cultivate Carricante. In 1968 when Etna was given its DOC designation, Milo was also given the designation of Etna Bianco Superiore DOC. While others have come into the area to make Etna Bianco Superiore, I wanted to taste this wine at the source.
Barone di Villagrande produces over 100,000 bottles a year. They are a powerhouse in the industry and can be found worldwide. We can get these wines in Charleston, so I already have a stash of these wines in the wine room. Well, they make a Merlot. An exceptional Merlot. It is outstanding and unavailable in the USA, so we brought one home.
This last winery on the list got there for a silly reason. A dear friend's parents immigrated to the US from Corleone, Sicily, and his last name is Costantino. Maybe they were related. Little did I know that Costantino in Sicily is like Smith in the US.
Silly reason, perhaps, but the wines were terrific. So much so that we purchased a mixed case of our favorites and had it shipped back home. One of the wines we tasted and shipped home is Rasola, a field blend of red and white grapes from Contrada Blandano. This is a wine made the way of their ancestors. Nerello Mascalese, Nerello Cappuccio, Carricante, Catarratto, Minnella, Francese, and other indigenous grapes, all together, spontaneous fermentation, no filtering, no temperature control, no added sulfites, in a transparent bottle. This is history in a bottle. But one that we must drink soon as their ancestors did.
Terre Costantino produces 54,000 bottles a year. Their wine is imported into the USA but not into South Carolina. Or you can always call the winery and get a case shipped.
---
Well, that is all for now. If you missed my first Sicily post – Check it out here.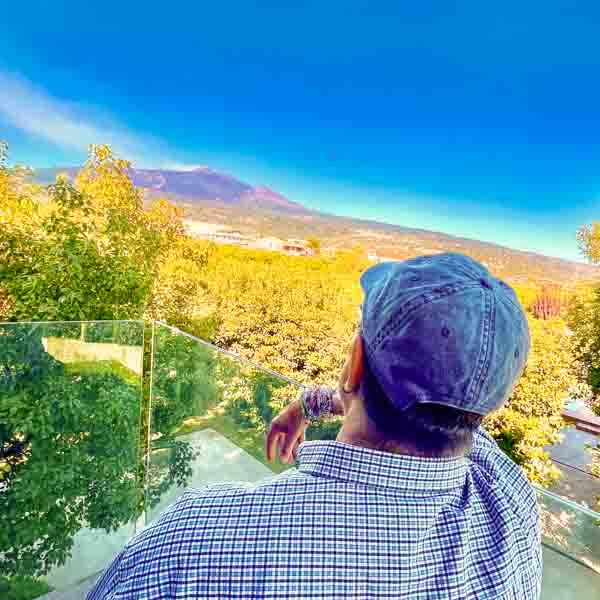 Cheers,