Whew! Thanksgiving, Hannukah, Christmas, New Years, and then Snow-mageddon. I need a drink! Good thing the January SC2RW wine tasting and social is set for January 18, 2018, at Monarch Wine Merchants.  Justin, owner and wine man extraordinaire has put together a great line up of five fabulous pinot noir wines to taste and share. This tasting is that is not to be missed.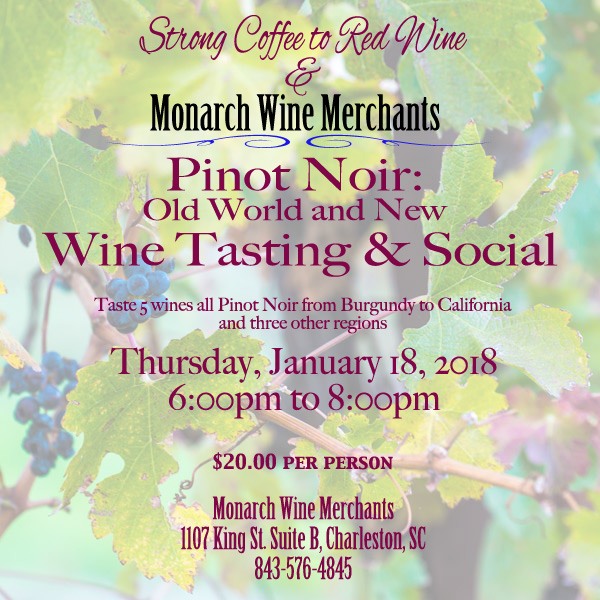 Did you see the article in the Post & Courier last week about the "'new' wine school train of thought" and how Charleston has jumped on board? Monarch Wine Merchants is central to this story, so there is no better time to get to his store and taste some wine. Read the article here.
The Monarch Wine Tasting Selection
Like you, I have not tasted the wines that Justin is offering, but I want to share the lineup to "wet your whistle." The information provided about these wines comes from winemakers or distributors websites.  Rarely do tasting offer wines from Burgundy because of their price point. Monarch Wine Merchants has found two from Burgundy that I am super excited to taste. Next is two from California one from Santa Barbara County (does the movie Sideways jump into your head) and the other from Northern California AVAs. Lastly, we will taste an Oregon Pinot with an Alsatian twist (note the different shaped bottle).
Old World – Hails from France
Christophe Buisson, Bourgogne Rouge, Burgundy 2014
From the distributor:  Buisson's Bourgogne rouge is good to have on hand because of a) it's reliably delicious and b) it's delicious with everything. The epitome of a crowd pleaser, this bottle is the fruit of vineyards in Santenay in the Côte de Beaune and Morey Saint-Denis in the Côte de Nuits—a taste of both subregions of the Golden Slope. Chill it briefly just before the gang arrives for an after-work apéritif, then sit back and relax. Life is good. —Emily Spillmann
Domaine Denis Berthaut 
Fixin (

Bourgogne) 

2014
No, we are not "fixin" to drink some wine. Fixin (pronounced- "Feex-auh" in French) is a sub-appellation in the communes of Fixin and Brochon in the Côte de Nuits sub-region of Burgundy. The Appellation d'origine contrôlée (AOC) Fixin may be used for red and white wine with respectively Pinot noir and Chardonnay as the main grape variety. The production of red wine dominates greatly, with around 96 percent, and only around four percent white wine. There are no Grand Cru vineyards with these communes.
From the distributor: From four parcels, totaling just over 3.5 hectares: Au Près, La Vionne, Clos du Villages, and Clos André. Both fermentations are completed in cement; the wine is then aged for 12 months in barrel (20% new). Total élèvage is 18 months. 7,000 bottles produced.
New World – Hello West Coast – California and Oregon
The Pinot Project Pinot Noir 2016
The Pinot Project was founded in 2009 by well-known wine importer Michael Skurnik. After more than 25 years of importing wines from around the world, Michael, who also represents a who's who portfolio of the finest California wineries, reached out to his roster of quality winemakers with a project to help him craft the finest quality Pinot Noir on the market at a value price. A consulting winemaker went to work seeking out individual lots of Pinot Noir from the finest growing areas of Northern California, which led to the creation of The Pinot Project, a soft, silky, fruit-forward, drinkable, and high-quality Pinot Noir.
It is hand-crafted from grapes grown in notable AVA's such as; Sonoma County, Carneros & Monterey. The Pinot Project has a full and silky mouthfeel, with just the right amount of acidity to complement a variety of dishes. The wine is 100% stainless steel fermented with the caps receiving periodic punchdowns, before finishing dry with just a kiss of oak.
Sandhi, Santa Barbara County, Central Coast Pinot Noir 2015
This is an elegant style Pinot Noir that emphasizes aromatic depth with elements of plum, strawberry, and rose. On the palate it has bright acidity, is medium bodied with bright, red cherry fruit, and savory notes of cola, sandalwood, and fresh earth. This wine is refined, food-friendly and lingers pleasantly on the finish inviting another sip, and then another. Open and enjoyable now with potential for short-term cellaring. Just about 3000 cases were produced.
The winery explains their approach in the cellar as such: "All wines are wild-­yeast fermented… All Pinot Noirs are mostly whole-cluster fermented because we feel the wines smell more alive, have a nice cola spice and more complex textures than wines that do not opt for this approach. All red wines are unfined and unfiltered with zero additions of water, sugar, acid, and enzymes."
Teutonic Wine Co 'Bergspitz' Chehalem Mountains, Oregon 2016 
The fruit is grown on top of Bald Peak in the Chehalem Mountains. The 2016 vintage delivers a lighter color. Yet with deep aromatics of bright fruit notes of cherry and white raspberry with a dusting of chalkiness.
Please join us. The cost of this tasting is just $20.00 per person. And you can buy your tickets online through brown paper tickets.  We expect this tasting to sell out so please do not delay in getting your ticket.
That is all for now.
Cheers,
rick