Vineyards and wineries come in all shapes and sizes. Some wineries make a wide variety of wines, and some make just a few. Hawk & Horse Vineyards is one that makes a few and specializes in estate-grown Cabernet Sauvignon.  I recently received a sample of two of their wines from Lake County, Red Hills AVA and I wanted to share their story and their wines with you.
Where is Lake County and Red Hills AVA?
Lake County is the next county north of Napa County.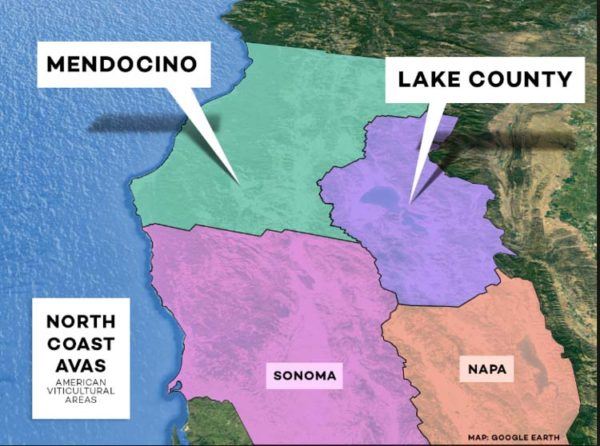 Where is Hawk and Horse within the Red Hills AVA? It's at the southern edge.
Ok, now you have a sense of place. Le's get into the story of Hawk & Horse Vineyards.
Hawk and Horse Vineyards – Background
The Boies and Hawkins families own and operate this vineyard and ranch on a historic property in the Red Hills AVA of Lake County. It was founded in 1999 with the first release a 2004 Cabernet Sauvignon. With 18 acres planted, Hawk & Horse Vineyards has been Demeter-Biodynamic certified since 2008 and California Certified Organic (CCOF) since 2004.
Side Note: Biodynamics is a holistic, ecological, and ethical approach to farming, gardening, food, and nutrition. Biodynamic and organic are very similar; both are grown without chemicals and GMOs. However, biodynamic goes one step further. It is a holistic practice where all things are considered living interrelated systems – animals, plants and the solar system. Biodynamic practices create healthier plants and heal the earth by replenishing the soil and adding vitality to the plant, land and/or livestock. 
Demeter-Biodynamic Certified means that the farm has been evaluated by Demeter USA; the only certifier for Biodynamic farms and products in America.
Of the 18 acres, 15 are Cabernet Sauvignon, with one acre each of Petit Syrah, Cabernet Franc, and Petit Verdot. As for the name, it is a nod to the Red Tail Hawks that flourish on the property, the equestrian history of the ranch and the love of their own horses which are an integral part of the daily life on the ranch.
________________________________________________
2014 Cabernet Sauvignon, Hawk and Horse Vineyards, Red Hills AVA, Lake County, California
When I received this wine, I laid it down to rest after the journey from California for about three weeks. Perhaps that was overkill, but I chose to be safe rather than sorry.
It was just last week that I chose to open this wine and I thoroughly enjoyed the experience.  As I drank this wine over the course of a couple of hours the transformation of the structure, aromas and flavors were extraordinary. This beautiful dark purple Cabernet continued to develop in my glass from pleasing to exquisite.
You could smell the aromas as soon as the bottle was opened as it filled my kitchen. It was glorious. The nose was full of powerful and intense black fruits like fig and prune. As I moved the bowl around, I captured notes of ripe cherry.  The first sip was smooth and youthfully fruitful with negligible tannins. But as I worked my way through the bottle while sharing it with friends the true expression of this wine began to transform and take hold.
The nose took on aromas of pipe tobacco and leather. The structure and mouthfeel matured and the velvety tannins began to express themselves. The palate that started with prominent cherry notes also transformed into a vibrant mixture of spices and dark chocolate covered cherries. This wine played with me, and I loved every minute of it.
One of my notes after drinking it was that I should have decanted it for at least an hour to allow the wine to fully express itself. But drinking it through the transformation was quite fun. As such the decision to decant or not should be made depending on what one wants from this wine.
I can still smell the pipe tobacco which makes me smile.
The Details
98% Cabernet Sauvignon 2% Petit Verdot
14.1% Alcohol By Volume
23 months in French oak (90% new and 10% two years old)
1500 cases
______________________________________________
2013 Latigo,
Hawk and Horse Vineyards,
Red Hills AVA, Lake County, California
We used to drink port all winter long when we lived in Chicago. For some reason, I have always considered it a winter beverage. So when this bottle arrived, I could hardly wait to give it a try as it has been so long.
This wine is produced in traditional Late Bottle Vintage Port style. What this means is that the wine doesn't go through a complete fermentation. Instead, the fermentation is stopped when the ideal sugar level is reached. The addition of brandy stops the fermentation by creating an environment where the wine yeasts can't survive. Winemakers add the brandy evenly into the wine so the yeasts calmly die off.
This now fortified wine is aged for 29 months in new French oak barrels before bottling.
The wine is a deep and saturated blackish purple with dark ruby edges. The nose is delicately scented with cherry, chocolate, and pipe tobacco. I am loving this wine.
The palate is graced with dark chocolate, a bit of smoke, and dark yet tart cherries. I love, love, love the mouth-watering acidity present in this wine which is something that I was not expecting. I love the mouthfeel as it is velvety and rich but not excessively so. It is sweet but not too sweet.
Then I brought out some 65% dark chocolate squares to share and enjoy with the wine. We all fell quiet. We nibbled and sipped. This was a great way to end the evening.
The Details
100% Cabernet Sauvignon fortified with Alembic high proof oak-aged brandy
Residual Sugar: 13%
17.9% Alcohol By Volume
29 months in new Marchive French oak barrels from Allier Forest in France
270 cases
_______________________________________
Hawk and Horse Vineyards 13048 Hwy 29, Lower Lake, CA 95457. Phone: 707-481-6941 (Winery) 707-696-4838 (Vineyard)
Wine Tours and Ranch and Vineyard Tours are available by appointment only. Wines are available at the winery and online.
That is all for now.
Cheers,
rick
---