I had so much to stay that Instagram would not allow me to post that much, so I moved the post here.  Thank you, Alice and Brook, for partnering with @strongcoffeetoredwine.
THANK YOU!
One of the joys of this wine excursion was to meet with the wineries that have partnered with me.  Brook from @bannisterwines and Alice from @sutrowine are two of my original partners. Meeting them and saying THANK YOU was a highlight of my trip. But, of course, we also got the added bonus of tasting their current releases. Since neither wineries have a tasting room, we met at Brook's place and sat on his lush and plant-filled patio.
Sutro Wine
When I did the tasting with Sutro in 2019, we did a 4 year vertical (2012, 2014, 2015, 2016) tasting of her Warnecke Ranch Cabernet Sauvignon.
On this day, we tasted her stunning, bright, balanced Sauvignon Blanc. Look for orchard fruits, some citrus, and some lovely, aromatic herbs. This is my style of Sauvignon Blanc.  (No grass and no grapefruit for me!!) Loved it.  Next was her Merlot. Also a beautiful wine. Look for fresh red fruit on the nose and a cornucopia of herbs and red fruit on the palate. And last was her flagship newly released 2017 Cabernet Sauvignon. This was so exciting for me.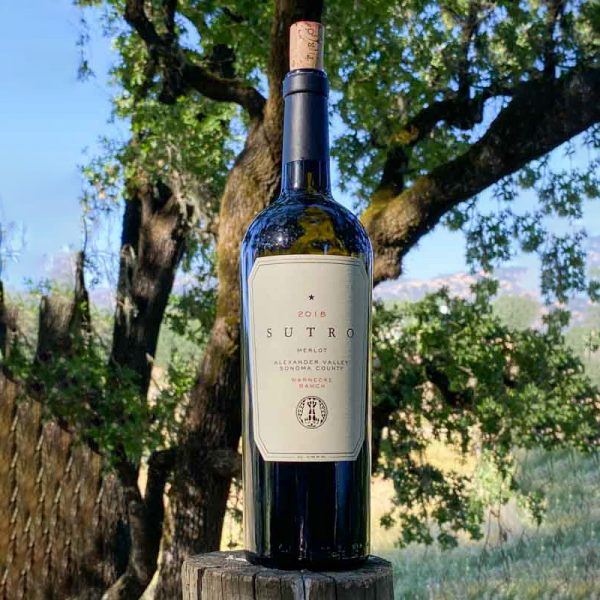 My clients loved her 2014 Cab so much they ordered several cases when we tasted it.  And a month ago, we cleaned her out of all that remained of the 2014 vintage (drinking like the nectar of the gods and goddesses right now).  Alice said she thinks that there will be lots of similarities between the 2014 and the 2017 vintages. Of course, the 2017 vintage is drinking well now with Alice's precision balance in her wines. But you can also taste the potential for what this wine will become in the coming 3-5 years and beyond.  It was such a joy to meet and taste with her.
Bannister Wines
Brook Bannister makes several Pinot Noir, and they are all excellent wines. He also makes a fan favorite Chardonnay in the new California style, which we did not taste.
And then there are his passion projects. The first we tasted was his 2020 Scheurebe  (shoi-Ray-bah) from Alexander Valley. Scheurebe is a white wine grape variety. It is primarily grown in Germany and Austria. It is believed to be a cross with Riesling and unknown German wild grapes. These wines are highly aromatic and are often used for sweet wines, but Brook makes his dry. Look for medium acidity and floral notes on the nose with lime and other citrus flavors on the palate. His next wine is his skin-contact Riesling. This was the second time I tasted a vintage of this wine, and I have to say, WOW. It is lovely. The petrol aromas that I have come to expect were not there. It was slightly creamy and scrumptious. That is all I am going to say. Order a bottle and see for yourself.
We then tasted his 2018 Old Vine Swan Clone Hopkins River Ranch Pinot Noir. Look for depth of flavor in the red and black fruit along with baking spices. This wine has structure and subtle tannins with a medium-plus body. I am a big fan of every Pinot of his that I have tasted. We concluded with his Sanii Farms Zinfandel. This is not your stereotypical California Zinfandel. It is elegant, smooth, and nicely rounded with a balanced mix of red and black fruits. This is a luscious wine that will surprise the non-Zin drinkers out there.
Cheers,
Gary & Rick